The Classical Transparent is similar to traditional fountain pen ink; the Liquid Gouache ink is just what it says it is; the Permanent Pigmented ink has the properties and feel of 'Indian' ink and the Natural Historical inks are made from ancient recipes and biological pigments. All available in a 30 ml glass bottle.
I was recently given the opportunity to test and review this excellent range of inks - a big job with so many qualities and colours, but very exciting. I've listed below the tests that were carried out, the results and conclusions.


Each ink colour, in each range, were subjected to the following tests:- their water solubility, staining and drying properties; their 'flow' and character on a cross section of different papers; their use with various dip, fountain and other pens; their use with sable and synthetic brushes; their transparent or opaque qualities; the lightfast qualities of these inks were already established.
The papers they were tested on - cheap stationary paper and card; Croxley; Basildon Bond; Bristol Board; Bockingford watercolour paper; Saunders Waterford watercolour paper Rough and Hot Pressed.
The pens used in these tests:- Dip pen nibs - Brause; Mitchell; Gillott and Leondart, with and without reservoirs.
Other pens - Quill, Reed, Ruling and Automatic pens.
Fountain pens - Sheaffer; Parker and Osmiroid bladder fill; Pelikan piston fill.
Technical pens - Rotring Isograph and Pelikan Graphos.
A selection of brushes both sable and synthetic.
All inks in the Penman range are Ph neutral, non-toxic, non-flammable and environmentally friendly.
---
The Classical Transparent Inks.

These inks offer a wide spectrum of colours, made from the highest quality, full strength natural dyes to provide maximum resistance to light and ageing.
The translucent colours have a bright, rich tone, are water soluble and Ph neutral. Excellent luminosity, smooth and free flowing, with no spluttering or skidding.
All colours are intermixable. Most have staining properties, in that the ink leaves a stain on the paper after water is applied.
The Classical Transparent ink range are suitable for use with :- Dip pens; Quill, Reed or Calame; Fountain pens (except Mont Blanc, as using ink other than their own voids the warranty); Technical and Ruling pens, Automatic pens, brushes, also the Airbrush.
Recommended surfaces: HP watercolour paper; Bristol board or card; good quality writing and/or smooth surfaced papers.
The colour range, made from swatches of the inks applied to bright white Bristol board.
CTI01

Sulphur Yellow - very clear bright yellow
CTI02

Amber Yellow - clean colour with a leaning towards orange
CTI03

Yellow Jasper - dull ochre yellow
CTI04

Orange Amber - orange with a slight red undertone
CTI05

Carnelian Red - bright red with a very slight lean towards orange
CTI06

Jasper Red - fairly balanced red

CTI07

Scarlet Ruby - red/pink with bright colour
CTI08

Hazel Onyx - a burnt orange
CTI09

Cherry Opal - a dull red with a purple feel to it
CTI11

Fuchsia Quartz beautiful very intense colour
CTI12

Violet Agate - purple with a leaning towards blue
CTI13

Lilac Agate - deep rich purple
CTI14

Agate Blue - good 'fountain pen' blue
CTI15

Aquamarine Blue - blue with a slight lean towards green
CTI16

Turquoise Agate - very bright colour
CTI17

Amazonite Green - a deep blue green
CTI18

Peridot Green - green with a yellow undertone, good mixing green

CTI19

Moss Agate - slightly bluer and darker than the Peridot
CTI20

Olive Peridot - dull olive with a slight grey look on paper
CTI21

Sepia Quartz - warmer than a lot of sepia colours
CTI22

Obsidian Brown - rich dark, cool brown
CTI23

Grey Hematite - blue black similar to a Payne's grey
CTI24

Jet Black - rich black with a slightly purple feel.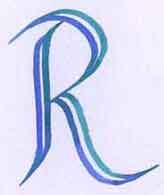 They all intermix, good if you wish to make a colour unique to you.
This letter 'R' was produced with a No. 8 Automatic pen loaded with Agate Blue in one spine and Turquoise Green in the other. It was applied to 115 lb Bristol Board - shown larger than actual size.An excellent range of colours for the Artist, Calligrapher, Illustrator, Scribe, Illuminator, Decorative and Graphic Artist.

Easy to use, quick drying with very good lightfast properties.
Click for the Liquid Gouache Ink or Natural Historical ink or Permanent Pigmented


Some interesting and insightful comments about these inks can be found on this forum link http://www.fountainpennetwork.com/forum/index.php?showtopic=26414
These inks are available online from J and T's Art and Calligraphy and Dip Pen Nibs