Liquid Gouache Ink.
An excellent range of highly pigmented, Ph neutral inks. Offering excellent lightfast properties, with rich colour and tone, also a slightly sateen finish. The main constituents are the finely ground pigment, egg white, honey and gum Arabic. These inks have a very smooth consistency and even flow. All the colours are water soluble and intermixable, for use with reed pens, dip pens, ruling pens and brush. (It would be best to thin them with water for use with Automatic pens and the Airbrush)

All dip pens used (Brause, Gillott, Mitchell and Leondart) were loaded by the following methods, brush, dropper and dipping, all worked successfully. These inks are made from very finely ground pigment and will settle out over time, so shaking or stirring (for preference) of the contents is recommended. They offer excellent lightfast-ness apart from Brilliant Yellow; Magenta Rose and Rose Carmine, which are classed as very good. They do not splutter, drip or blot on the paper, before or during use.
They offer a better quality and saturation of pigment, than a lot of Gouache paint on the market today, they are mainly single pigment colours, giving 'clean' colours when mixed. When left to settle on the paper of their own accord, they have a pleasant, slightly raised, matt finish. Cassel Earth is the only ink that leaves no residue when 'lifted out' of the papers.
Recommended surfaces: HP watercolour paper; Bristol board or card; good quality writing and/or smooth surfaced papers, also parchment or vellum paper.
The colour range, made from swatches of the inks applied to bright white Bristol board.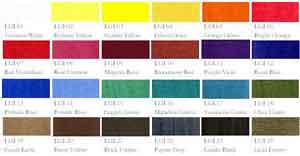 The colours - going from left to right and down the rows, s/o/t = semi, opaque, transparent.
Row one.
LGI01 Titanium White - an opaque white, o;
LGI02 Brilliant Yellow - a 'lemon' yellow giving muted greens when mixed with the blues, s/t;
LGI03 Golden Yellow - a warm yellow, again giving a good selection of greens when mixed with the blues, s/o;
LGI04 Yellow Ochre - typical yellow ochre colour, o;
LGI05 Orange Ochre - this one is not available at present;
LGI06 Bright Orange - a bright clean orange, s/o;
Row two.
LGI07 Red Vermillion - a clean bright red giving good pinks, s/o;
LGI08 Rose Carmine - red with a slight purple undertone, s/t;
LGI09 Magenta Rose - a deep rich red, o;
LGI10 Bloodstone Red - similar to a burnt sienna, s/o;
LGI11 Purple Violet - purple with a blue undertone, s/o;
LGI12 Royal Blue - deep ultramarine type blue, o;
Row three.
LGI13 Phthalo Blue - rich blue, s/t;
LGI14 Powder Blue - a tint of previous colour, s/o;
LGI15 Copper Green - useful green, t;
LGI16 Malachite Green - clear rich green, t;
LGI17 Turquoise Green - a blue green, s/o;
LGI18 Olive Green - a deep useful green, o;
Row four.
LGI19 Cassel Earth - a light sepia colour, t;
LGI20 Burnt Umber - a dark rich burnt orange, o;
LGI21 Black Umber - a warm dark black/brown, o;
LGI22 Paynes Grey - an interesting blue/black, o;
LGI23 Candle Black - a dense rich black, o;
LGI25 Gold Lustre - a weak transparent gold, t.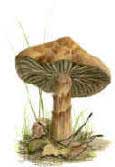 This mushroom was painted using the Liquid Gouache inks and Sable/synthetic brushes, on 115 lb Bristol Board.
This ink is a pleasure to use, no chalky or grainy bits, the added benefit - it can be used 'as is,' straight from the bottle.
An excellent range of colours for the Artist, Calligrapher, Illustrator, Illuminator, Decorative, Parchment and Graphic Artist. Being easy to use and clean up, quick drying with an attractive finish to the work.
Click the link for Permanent Pigmented Ink
These inks can be found in the ink section of our eshop J and T's Art & Calligraphy and at Dip Pen Nibs
For those wishing to learn about using Gouache please use the link, or have a look at Gouache Painting Techniques for a book by the same name in our online shop.